Temple of goddess Isis: quarter-day relaxation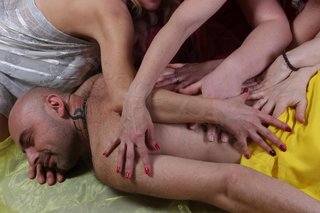 A quarter-day relaxation and treat for your body and soul. This is a massage lasting for 5 or 6 hours for men. Experience the best from tantra and tantric massage. Meet your Goddess who will guide you through the secret desires of your senses and will help you to feel all the basic elements on your body: strength of water, heat of fire, safety of earth and lightness of air.
Make all your senses active!
Experience the entire art of tantra and tantric massage.
Experience a quarter-day with Tantra. Let yourself be pampered for 5 hours with a masseuse or 6 hours with two masseuses. Open your body and mind and meet your Tantric goddesses, who will guide you through the secrets of all senses.
What you can look forward to:
This massage includes most of the techniques of tantric massage that are tailored to you and your personal energy flow during the massage.
What is waiting for you during this long massage?
At first, the masseuse performs a ritual of opening the senses.
Then a Tantric Bath. The bath can be either at the beginning or at the end of your massage.
Instead of a bath you can choose Body to Body Massage.
Feel the elements of Classic Massage or Tao Massage, Kashmir Massage.
Lingam massage, anal massage and prostate massage (if you wish).
Fourth dimension massage.
Caress meditation and sampling of other meditation techniques and appropriate tantric rituals.
Included as part of the experience are fruit bowls, nuts and drinks.
With the 6 hour option, two masseuses will be with you, and give you a short four-hand massage.
Two to three mini break for a masseuse are part of this massage, although the break do not count in the duration of the massage.
Surprise yourself! Let your energy flow and understand that this is the best experience for you.
Benefits
Experience intense waves of pleasure.
The Isis Massage, named after the ancient Egyptian goddess, the representative of the female principle and spirituality, is based on my long-term massage experience and is performed only by the most experienced masseuses.
It is full of surprises with intense pleasant physical experiences and you will be led to excitement through tantric breathing, you can experience whole body orgasm and altered state of consciousness.
I will choose for you one of the tantric rituals, such as the Ritual of Senses or another, according to the current situation.
Of course, you can choose which of the options you want to experience.
Recommendation
Massage can be taken as a long relaxation and pleasure or as a unique opportunity to touch the essence of tantra and go deep into your feelings, to the roots of your personality.
The next step, if you should like to experience it, is just graduating from one of our Tantralife courses or long-term training with world-class tantra teachers.