BASIC Tantric Massage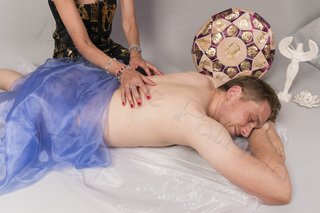 First intimate massage
Your body and lingam will receive worship, appreciation, attention, and loving care during this intimate men's massage. This relaxing body massage is an invitation to open your sexuality to new horizons and is perfect for tantric beginners.
Are you ready to penetrate the intimate tantric secrets in Prague ?

Intimate body massage is a unique massage that will permanently change your understanding of oil massage as such. Enjoy an intimate oil tantric body massage in Prague city centre and allow yourself to be worshipped with feathers, fur gloves, oil massage and ritual washing.
Discover its magic through the essence of a tantric massage with its special rituals of standing and lying. Then indulge in a full-body oil massage, administered by the sensitive hands of the masseuse in our Prague massage salon.
We are located in the city centre near to Českomoravská metro station, Prague 9 and we are also providing intimate massages in hotel rooms and homes anywhere in Prague.
About tantric body massage rituals
Indulge energized connection with the masseuse at the beginning during the standing ritual.
This ritual opens up a unique space in which to experience your tantric massage.
Lying down, you will then enjoy full-body relaxation under loving hands.
Start visualising a special intimate penis massage.
What will this intimate massage bring you?
Relaxation and the unwinding of both body and mind.
You will feel hot fire and goosebumps as you dive into your inner self.
This special sequence teaches men to experience their awakened energy in a new and different way.
If you receive this intimate massage regularly you will learn how to work with your breathing.
It will improve also your pelvic energy and helps to control your orgasm.
Intimate body massage helps men to open up and expand your sexuality.
Good to know about tantric massages
You can try also the Prostate Massage, which focuses on a longer stimulation of this important organ. A short prostate massage can be part of the basic tantric massage.
For intimate massages longer than 2 hours, prostate care can be included.
Body to body massage is an intimate massage given through direct body contact.
If you are experienced in riding a heightened wave of sexual energy, choose the advanced Tantric Lingam Massage.
Intimate body massage for TWO also includes a Tantric Massage for Men and Tantric Massage for Women, which can be enjoyed together.
The intimate male body massage includes all the elements and of course intimate massage of penis area as well.