Prostate massage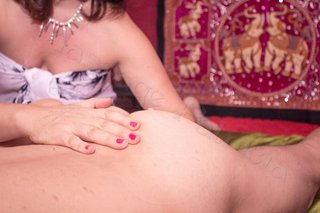 Harmonize and give you new feeling sensations with a surprising healing benefit.
The prostate is the neglected heart of male sexuality.
To more fully feel your masculinity, even its hidden aspects, explore the "male G-spot" and discover new sensations from within your body.
This adventure starts with energetical connectvion, a massage of lower back, back and legs.
I activate as well acupunctur prostata point on your feet.
Gradually, the masseuse will shift to the pelvic area and buttocks these muscles are completely relaxed. She will then move on to a special massage of the anal area (rosette massage) as to internally massage which stimulate the prostate with very professional and very vocational movement.
This unique technique induces a unique arousal and wave of sensations similar to a female orgasm.
In both the 105 minute and 2-hour versions, the lingam is also massaged, enabling you to feel thesmall "energy circuit" created between the lingam and the prostate.
For a prostate massage alone,without including the lingham, choose the basic 60-minute Prostate Massage.
Prostate massage in 3 variants
Prostate Essentials Your introductory 60 minute experience without the intimate lingammassage. The initial focus is external, as your masseuse caresses the pelvic area, hips, inner thighs and buttocks before she begins the internal prostate massage.
Prostate with Tantra 75 min, 90 min, 2 hrs ...– This integrated massage incorporates both tantric and prostate elements. It includes the lingam massage, pelvic area massage, and the 10-20 minute internal prostate massage.
Prostate Exclusive with Tantra – 105 min You can look forward to an extended internal prostate massage with Exclusive – together with all the elements of a tantric massage. This comprehinsive massage has its special focus on the lower torso buttocks and anal area and, of course, includes a lingam
The direct prostate massage isquite demanding technically and physically and is usually a 10 -15 minute experience.
If you wish to have a longer internal prostate massage experience, this can be of course provided but for an additional fee.
For each above variant, the internal massage can be extended by 300Kč for each additional 10 minutes.
What you can look forward too
You can experience intensive exciting impulses inside your body similar to a feminine orgasm
This massage lasts 105 minutes and consists of Tantra Basic massage with emphasis on relaxing your pelvis, bottom, special anal massage (with your agreement )an inner massage of the prostate.
We add 20 minutes (comparing to the time for a Tantra Basic massage) to be able to relax these areas completely.
It is performed very softly and sensitively after relaxing the whole pelvis and bottom area. Besides the beneficial effects you can experience intensive exciting impulses inside your body similar to a feminine orgasm.
This massage includes also a lingam massage.
Benefits
The prostate is the neglected heart of male sexuality.
Give it regular love, care, and attention and see how much your experience changes.
This massage is highly therapeutic as it helps maintains the elasticity of your prostate.
It is suitable as a regular and highly pleasant preventive step against prostate-related diseases.
Recommendation