About our studio
Tantric temple in Prague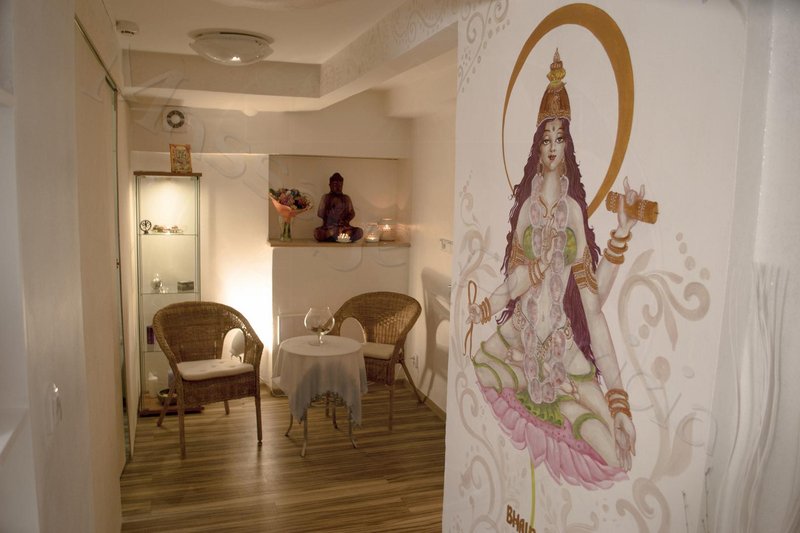 For more photos of our studio visit photo gallery.
History of the studio
The idea of ​​mobile massage in Prague first began in 1999. At that time, any kind of massage service in Prague was scarce, masseurs/masseuses with knowledge of foreign languages didn't exist, and tantric massages were very much in their infancy. At first, I worked as a masseur with a background in Prague's Vinohrady area. At that time, it was one of only three tantric studios in the city.
Massage studios in their current form had not yet developed. The Tantric Massage School by Denisa and Richard was the first tantra school which opened in the Czech Republic. Until then I applied my knowledge of tantra massage, which I had acquired in Germany, beginning my study when I was 22.
In 2010 my mobile massage facilities moved to Prague 9 and I established my own premises, which is in a convenient location near the O2 Arena, close to the metro and tram, with good parking nearby. The facilities underwent complete reconstruction in 2017, creating a Tantric temple, dedicated to the Indian goddess Bhairavi, who is similar to, in European mythology, the Phoenix - the symbol of "what arose from the ashes".
This reconstructioin was facilitated by architects and artists, truly resonating the rising of the Phoenix. In the many and varied choice of tantric studies, I offer the quality and depth of true Tantric Massage (see about the founder), refined over years of work and study, based on my intense interest in this discipline.
Visit me and convince yourself. Come in to experience a massage and enter the Temple of Peace, Well-being and true Tantra.
Tantric courses
There is a proverb that says, "You don't know it until you can teach it", which to us, means that our goal is not only satisfied clients but also capable masseurs and masseuses. In 2008, I started the school of tantric massage and life-partnership, Tantralife, in which we put our years of experience into full practice.
You can learn how to perform massage and how to further develop relations with your partner. Many masseuses and masseurs became qualified here, as have couples in the courses focused on touch, and communication.
You can look on the new website: https://www.tantrapatricia.cz/cs/
Our partners