Exclusive tantric massage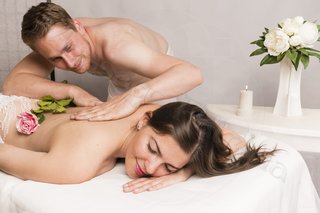 Exclusive tantric massage for women allows you to go even deeper into your feelings and experiences. The massage is given with a level of tenderness and care that you are sure to dream about.
Let yourself relax, without thinking what your partner would like, without having to give in return
What can you look forward to?
A ritual of connection between you, the masseuse, and to the universe
A sensual lying down ritual to relax your body with hot towels, furs, and feathers
Your head and hair will also be massaged, before oil is applied, of course
An oil massage using firmer touches will release any blocks you may have and a gentle relaxing preparatory massage
Intimate massage, which includes:
Gentle massage of the 4th chakra and breasts
Genital massage from the outside
Vaginal massage from the inside
What will the massage bring you?
You will experience the sacredness of tantric massage
You will allow yourself total relaxation, switching off the stress and thoughts in your head
Experience touch just for yourself, without having to return anything or being pushed into activities for which the time is not ripe.
Our recommendation:
-Before the massage, agree on the boundaries of intimacy with the masseuse. For some, a breast massage is already very intimate
-It's your choice. Some of you will welcome a yoni massage from the outside only, some will opt for a full massage with an internal tantric vaginal massage.
For women who love more intensity and a deeper experience, choose a body to body massage.