Exclusive tantric massage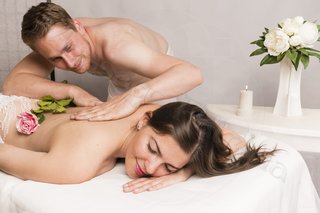 Exclusive treatment including yoni massage is a spiritual ritual that awakens your body sexually. Exclusive tantric massage for women allows you to go even deeper into your feelings and experiences. The massage is given with a level of tenderness and care that you are sure to dream about.
Let yourself relax, without thinking what your partner would like, without having to give in return. A sensual lying down ritual will relax your body with hot towels, furs, and feathers. Exclusive massage includes also Yoni massage. Your vulva will be honoured and pampered. Yoni massage also removes tensions and blocks.
What can you look forward to?
Head and hair massage
Intimate massage with oil, which includes full yoni massage
Gentle massage of the 4th chakra and breasts
Genital massage from the outside
Vaginal massage from the inside
What will the massage with Yoni treatment bring you?
You will experience the sacredness of tantric massage
You will allow yourself total relaxation
Switching off the stress and thoughts in your head
Experience touch just for yourself, without having to return anything or being pushed into activities for which the time is not ripe.
What is Yoni massage and how does it help women's health?
A yoni massage involves several massaging motions over the vagina, stomach, legs and breasts. Yoni Massage, similar to a massage anywhere else in the body, releases tension. However, because the yoni is one of the most intimate and powerful parts of the body it's important that the massage follows certain guidelines — a ritual if you will.
Yoni massage offers a holistic approach to stress relief, allowing individuals to embark on a journey of self-exploration, body awareness, and sensual connection. By embracing this ancient practice, you can deepen your understanding of your own body and release emotional tension.
For women, blockages tend to accumulate more often than not in the yoni. This is the reason why Tantra Massage includes genital massage, or more specifically, Tantric Yoni Massage. It is not for the purpose of eroticism or lewd activities. It is solely for healing and spiritual purposes.
What does an authentic Yoni massage look like?
It is important to understand that Tantric Yoni Massage is just one part of a whole-body experience. It is vital that a trained therapist prepares a woman physically, emotionally, and energetically before massaging the yoni itself. This is done by massaging the whole body, from head to toe, in a precise and specific way and by incorporating energy into the practice.
A woman needs first to be brought to a state of physical relaxation, which can take some time. A typical Tantra Massage session can be anywhere from 1.5-2.5 hours in duration, which provides ample time to bring a state of calmness to a woman's mind, body, and spirit.
In this condition, she is more open to receiving and more prepared to release any blockages, stress, and stuck emotions. Relaxation also activates the parasympathetic nervous system, bringing the body to the only state that can trigger a cascade of healing mechanisms and effects.
Our recommendation:
Before the exclusive yoni massage, agree on the boundaries of intimacy with the masseuse. For some, a breast massage is already very intimate
Avoid coffee or alcohol 48 hours minimally (longer is better) prior to a session.
A cleanse or detox that is 3-7 days in duration beforehand can prove to be very beneficial.
Eat lightly on the day of your session. Ideally, you should arrive on an empty stomach to the appointment.
It's your choice. Some of you will welcome a yoni massage from the outside only, some will opt for a full massage with an internal tantric vaginal massage.
For women who love more intensity and a deeper experience, choose a body to body massage.