Art massage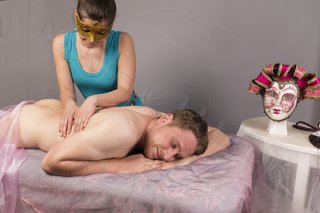 Do you like a stronger and faster type of massage? Are you in a hurry and you can not relax well? Then choose our Art massage which is performed to the rhythm of captivating music.
Relax as the hands of a masseuse dance on your body
Artmassage is based on the smooth touch to the rhythm of music selected for this massage, alternately delicate and intense. During the hour massage, you will feel the energy rising and falling, with an erotic charge, as the elements of tantric massage and intimate massages will warm up the muscles, body and soul.
Artmassage was one of the first massages that Patricia created and offered before the era of tantric massage. Because it was very popular, I've begun to incorporate it into my current repertoire.
What you can look forward
We will begin by warming you up using different techniques. Than you can expect a more intense oil massage, utilizing higher energy and pressure. According to your desire, we can warm up and massage your sore spots and add a new healing energy. At the end of the massage we naturally include a shorter and more intense massage of intimate parts.
Benefits of massage
This massage is done with more force, it is faster and shorter in time. Its intensity depends on the rhythm of the special music. It excludes the opening ritual by standing, the whole time you enjoy a massage lying on a massage bed. The final intimate massage is done sensitively and with a "happy ending".
In this massage as well, the client does not touch the masseuse. Just give her space to work her magic and enjoy this unique massage.
Recommendations
If you prefer a softer and longer massage, choose a Tantric massage.
If you need intense physical contact, consider Body to body massage.
The price is known in advance.
Artmassage does not include a prostate massage, you can add it to the 75 min variant, for surcharge of 200 czk.