Shiva in paradise: four-hand tantric massage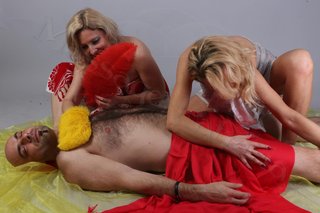 4-hands tantra massage
Four hands on your body? Yes, as in paradise, now you can feel like a Prague king. This is the way men – our clients – feel after a 4 handed massage when 2 beautiful and perfectly coordinated masseuses are a pure delight for the body and soul.
What you can expect from 4 hands massage
In a four-hands massage, two therapists work on one client, often using synchronized moves. We specialize in 4-hands tantra massage therapy in Prague. Visit us or book masseurs straight to your hotel room or home. Four hands on your body and you will get much more than you can imagine from a two-handed massage. It will be a life-changing experience for you.
In a 4 hands massage, two tantric temptresses work in total tandem to deliver a unique massage experience that will simultaneously stimulate the senses. Your hidden energy – prana – is stimulated pleasantly and relatively quickly so that you feel the energy from the tips of your toes, through your inner organs up to your head and intimate parts of your body. Four-handed massages can last for 1 to 3 hours.
Do you want more?
If you would like a 6-handed massage please make an order at least 2 days in advance. There will be a surcharge based on the length of the massage.