Testimonials
This was my first time visiting Prague. I found Patricia online a few weeks before I arrived. After reading about Patricia and her temple, I decided that I was going to treat myself to an extended appointment for our first visit. When I showed up, Patricia greeted me like an old friend and i felt a connection between souls. This is the magic that she brings to her space.

The entire temple she has built makes you feel like you could stay forever. Nothing is rushed. Hot tea, cozy chairs, soft lighting, comfortable tables. It is a wonderful space.
After getting settled (my heart was racing from anticipation), Patricia guided me on a 3 hour journey of touch, smell, and sound. She led me many times through the peaks of intimate intensity and then helped me coast down to a blissful buzz. By the end of the session, instead of being exhausted… I was surprised to find I was even more energized and ready to enjoy my time in Prague.
Thank you for creating this sanctuary and inviting me to share your energy. I can't wait for our souls to connect again.
Dr. B from New York
I have choose amazing massage with Patricia because I felt after reading your history
on your website    I can sense your kindness, generosity, and open heart. And it
was absolutely truth. Thank you for great 3 hours pampering.
Louis, Arizona
All three masseges was very good. My complimence to you,Nadi,Veronica and Janca. 
The 4 hand massage with you and Nadi was very good and I will come back for it later. 
The 4 hour extended tantra massage with Janca was very good too. 
The massage (2 hours)with Veronica was good, Veronica was very nice and I had a godtime
Arnold
Hello, the massage was very good!
I book again for next week Wednesday
Tim
The massage by Nadi was very good. Nadi is very friendly with a positive spirit and attitude and very sensitive. She is very gentle and makes one feel really in a special mood. She knows how to move and touch in a way that makes you feel like being hugged and covered. It's really pleasure being with her as it looks like she really loves what she is doing.
It was a very good and enjoyable evening, moving slowly without any rush, enjoying every single second.
B.
Testimonial for a healing session with patricia
I had a stroke in late 2018 and had given up all hope of having an orgasm, given the medication I must live with. I had decided that life could be full of other things but I did come back to Prague where I had spent many wonderful times. I re-connected with Patricia and I spent a very good time with her over a drink, renewing her acquaintance. I did ask for a Tanta session with her, knowing she was the best and would be very understanding about my condition and she was. Imagine my joy when she brought me to full climax after 2 years!! She is a miracle worker without doubt. If you are doubtful about your sexual ability and are in the same position as myself with blood thinning medication do not hesitate to contact Patricia. Thank you so much Patricia, my dear and life changer.
Bruce, Scotland
Hi Patricia,I would like to provide you a short positive feedback.
First of all, I was really happy with the session with your masseuse, who is a beautiful women (in all areas-not just physically ). She has very good communication and human skills which helps to feel relaxed from the first step in the room. She was looking fully involved and concentrated during the entire session. I enjoyed very much.
Patricia, honestly you are the best tantra therapist in the world
In Prague you must visit Charles bridge and try Patricia tantra massage
I tried tantra in Bratislava ,Bucharest, Bangkok, Manila, London and Dubai
I appreciate your nice personality
I tried your session 3 times
Almost every time I visit Prague
You are a part of my trip
Maybe the best part of it
What I wanted to say. I have been married for many years and the feeling of disgust has
been lost. The simplest things people want. Affection, touch and closeness. I found that back
with them. It was an incredible experience for me. I have never been to a Tantra massage
before. That made me happy again for a moment. The inner silence, balance and security. I
did not even know that I could feel that.
Thank you very much! Michael
I will strongly recommend Nadi. She has the softest hands I ever felt. She is glad and make our meetings extremly warm. Her massage is a miracle of sensitivity and You feel she is there with every sense. Even if I was the receiver, it felt that she also got something. I will miss her hands, gentle smile and beautiful eyes.
Sven
Hallo Patricia,
nachdem ich aus Prag wieder zurück in Deutschland bin, möchte ich mich bei Dir melden.
Und mich noch einmal für die Tantra Massage in Deinem Massagestudio bedanken.
Du hast ein sehr schönes und behagliches Studio. Ich habe mich dort sehr wohl gefühlt.
Besonders möchte ich mich natürlich bei Ginger bedanken.
Ihre Tantra Massage war sehr einfühlsam und sehr intensiv.
Ich bin immer noch begeistert, wenn ich daran denke wie Ginger auf mich und meine Erwartungen eingegangen ist - und mir damit eine schöne Zeit, ein wundervolles Erlebnis und eine tiefgehende Entspannung gebracht hat. Vielen herzlichen Dank dafür.Ich freue mich auf den nächsten Besuch in Deinem Studio
Hans, 2018
Hi Patricia,
I m really good but missing that energy you gave me.
I have to admit yesterday i made
an appointment here in London for a massage
but later I cancelled it because I m sure it would never be as good, energetic & lustful as yours so cant wait to see you next time.
Deepak
Hello.congratulations for your professionalism.I've been on you with my friend.A greeting to you Patricia. It was a beautiful encounter.....many greetings. Umberto from Roma.
I had the great pleasure to enjoy a body to body experience.
She put me at direct east, and her initiation ceremony, which is done at the beginning of the ceremony, for sure established a
great connection. She was tactful and very emotionally and mentally arousing, and yet relaxing.
She also performed prostate massage and it was one of the best I ever had. Gentle, powerful, but yet intimate.
I strongly recommend it and strongly recommend visiting Patricia's Studio.
S. from Western Europe
Hello Patricia and Merci, my wife and I would like to thank for a truly lovely couple massage.
When you leave you are you fully recharged.
Thanks for the intro to tantra world which is absolutely fantastic and thanks Merci and Patricia for their unique abilities and touches that help to achieve the ultimate experience.
Love Louise & Allan
In my search to THE ultimate massage experience, your massage is in My personal top 5. Be aware That i already experienced countless massages all over THE world, so That means something.
Walter, Belgium
Hello Patricia
We thank you for an unforgettable amazing experience with you. we felt in very safe hands and we just send you to thank you for giving us the super tantric experience, that we really enjoy. Can't wait onto next time.
Thanks, Allan & Louise, DK
Just a quick note to say how much I enjoyed the massage - very enjoyable experience! I will certainly be back next time I am in Prague.
Chris, US
Thank you so much. You have a wonderful practice. You did did a great job and is a lovely human.
Thank you for bringing beauty to my day.
Clay, US
We arranged a couples' massage, in separate rooms, with Patricia (for the wife) and Merci (for the husband).
Wife: Patricia offered me a welcoming and safe environment. She is highly experienced,gentle and loving, and emphasized aspects of Tantra particularly critical for women – acceptance, sensitivity, and understanding. Patricia provided a safe, warm and relaxing experience that allowed me to open up and feel good about my body. I felt that I was in very good hands, and enjoyed the time immensely. Highly recommended.
Husband: provided an outstanding experience. She immediately put me at ease, radiating confidence, security, warmth and understanding. She has a wonderful touch, and was highly intuitive, sensing my responses and leading me to multiple levels of relaxation and release. Highly recommended!
Couple from Canada
Dear Patricia
Thank you so so much for such an amazing experience today. It was one of the most deepest experiences I have ever had in my life. You are an angel, healer and a shining star. My the univers bless you with all that you wish for. I look forward to connecting more with you in our next session.
Warm blessings, J.
I had some tantric massages with Patricia . It was always truly amazing! The welcoming tantric hug was the first in a long chain of spiritual bonding which put me at ease as soon as I walked through the door. The atmosphere of the room, her presence, pleasuring all of the senses is a great experience. The sessions we have had have been very pleasurable and have created a new way of life for me. Wait for the next time in Prague and the tantric massage with Patricia.
A.P. Switzerland
Dear Patricia, I m sitting at Place de la Bastille with my campari. I tryied a tantra massage yesterday here in Paris but it was a bullshit... Missing you and your girls in Prague.
Tom from Norway
Bonjour Patricia, Nous avions un massage dimanche midi avec Aura et Merci, Nous avons passé un agréable moment dans la découverte du massage Tantrique, Votre centre est à recommander : l'accueil très chaleureux, la déco est magnifique où l'hygiène et la propreté sont au rendez vous. Le partage tantrique a été une vrai découverte pour nous 2, un grand moment d'énergie, de plaisir et de lâcher prise. Un lieu où on se sent en confiance et respecter.Au grand plaisir de se revoir P.G.
Hi again!
I just want to say thanks for a very good time together with you in Praha. It was fantastic...
S. from Norway
Testimonial from Australia
Take a look at what came across the ocean: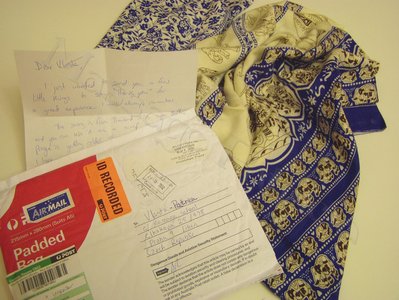 Patricia, thank you so much for the wonderful experience! My "last memories" of Prague are very special, no doubt. It was even better than I expected, you are amazing!
Thanks. Gordon
Dear Patricia,
I'm in New York on my way home but I can't stop thinking about the tantric massage of Saturday afternoon. You were wonderful, and I can't shake this feeling of deja vue that overtook me when you were "channeling" my energy flow. I haven't felt such strong passion for a long time and now I replay over and over in my memory.
I don't know if our paths will cross again, but I somehow feel that they will.
Rain from New York
Hello Patricia!
I am in Singapor this year. I did try other massages-but your soft hands are the best! Hope to see you next year.
Robert from Singapore
Dear Patricia, for me, every touch that goes from deep emotional motives or from honest person willing to help and break everyday barriers that lies between people. Tantra massage is my definition of highest peak of real aesthetic experience that achieve pure beauty of the giver and beauty of the receiver at the same time through finest form of pleasure. I enjoyf some of that wonderful experience visiting you and your nice studio. N.
Patricia,
I want to thank you for the wonderful massage earlier this month! I feel like it really opened me up to something different and was also an opportunity to learn more about myself. I found that I was less in my mind and more in my body afterwards, and having better sex with my partner.
The experience exceeded my expectations and it was really of the type that I was looking for; something of a spiritual nature to deepen my sexual understanding and energy flow.
I am looking forward to seeing you again next time I am in Prague! Stephan
Dear Patricia;
about the massage with you:
I felt that I know you before
I felt that you are the core of this place,
I felt really safe
I felt that I follow you,
I felt I truth you
I felt that I lost time and place,
I felt that I was empty and you full me with feelings
I felt it's my right, and you give it to me,
I try to found out my feeling about your massage
but really you give me more than words can tell,
hope to have massage with you soon.
S.from Egypt