Temple of goddess Isis: quarter-day relaxation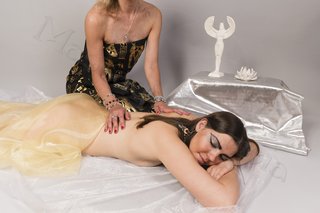 Do you want to feel as a queen during pampering?
Indulge in the best of the art of tantra, devote yourself to the gradual awakening of all senses. If so, try our longest massage - the Massage Temple of the Goddess Isis and enjoy the five-hour relaxing and healing, pleasure of the senses when you embrace all the senses of this massage.
Tantric massage, where you forget all the worries of everyday life.
What you can look forward to
Taste the best of tantra and tantric massage. A masseur or a masseuse will guide you through the mystery of the senses and help you feel the touch of all the elements on your body: the power of the water, the heat of the fire, the certainty of the earth and the lightness of the air: Isis massage so activates all your senses.
It includes most of our massages and treatments:
tantric bath (optional),
sensual opening ritual,
oil massage,
all types of intimate massage,
facial massage called "fourth dimension" and others.
What will the massage bring you
At the end of the therapy, you will feel full of love for yourself and the world through experiencing the flow of energy throughout the body.
You will be guided to enhance your experience with tantric breathing
you can experience multiple orgasms
and a changed state of consciousness
The massage is suitable for women who want to enjoy a unique experience and want to learn something new from tantra. This massage is based on a long-term massage experience and is full of surprises through intense pleasant physical experiences.
Recommendation
Order required in advance.
Please tell us about the 5-hour variation, whether you wish to receive massage from a masseur or masseuse.
A 6-hour massage is divided between two masseuses, a masseuse and a masseuse or two masseuses.
. you will embrace all of this through our own profound experience under our assistance
Please request your selected combination when you order.