Shakti massage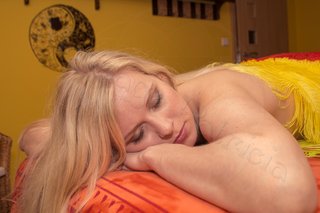 Choose the classical Tantric Shakti Massage for Women and feel yourself glide into a different consciousness. Tantra massage with an introductory ritual, gentle techniques, oil massage and intimate yoni massage is truly a 'classic' that never fail to delight and you will always finds something new and surprising.
Tantra is not just a massage: it's an experience that evokes a spiritual dimension.
What can you expect
Shakti massage for women lets you choose either a masseuse or a masseur, who will give you their undivided attention, respect and especially respect for your borders. Knowing the delicate borders of women, we understand the depth, vulnerability and sensitivity of women. We are completely on your wavelength, meaning that you can fully relax in a safe environment.
Women who enjoy delight in the anal region can order an anal and internal massage during any length of massage.
Benefit
Tantric massage belongs to old, proven and effective medical remedies. It works well not only on the uterus and the sexual organs, but on the whole female organism. Sensible touch on the body is vitalising and curative.
Let energy flow through the organs and start glands with internal secretions that improve hormone production, improve your mood, period, and relieve tension.
Massage will enhance your health and sensual feelings.
Tantra massage greatly improves the woman's psyche and also gives the woman an insight into a number of problems with relationships, families and partners.
Recommendation
Do you like a different position during your massage? Then choose Kashmir massage.
If you have experienced a trauma in your life, you are afraid of touching the body or sex, or have other problems in abdominal area, menstrual problems, etc. then look at the package of healing massages containing vaginal mapping.
Anal massage - surcharge 300 czk