Shakti de luxe: massage with bath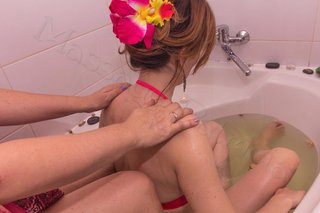 Want something extra for the Tantric Massage? Do you like to relax in the water, scented with the essential oils where you care for yourself? Then choose a luxurious massage with a bath.
Imagine a loving touch on your body, heated by fragrant bathwater.
What can you expect
After the introductory ritual or at the end of your tantra massage, a pleasant bath awaits you. Your body will be warm and languorous, and you will submerge int water with added salt flakes so your skin will breathe freely. After about half an hour of bathing, a tantric massage is waiting for you to determine the intensity of your intimacy again.
Benefits of massage
Every bath-supplemented massage has extremely calming effects and a positive impact on overall mental well-being, especially when you need to relax after a busy day.
The Tantric Bath for Women does not contain soap or any bath foam that is inappropriate for yoni.
Massage is popular for its gradual approach and maximum relaxation sensation.
How much more will you enjoy the massage feeling warm and relaxed?
Recommendation
If for some reason you do not want a bath in the bathtub, we can offer a shower as an alternative.
If you are interested, you can order an anal massage during this massage with surcharge 300 czk.