Classic tantra massage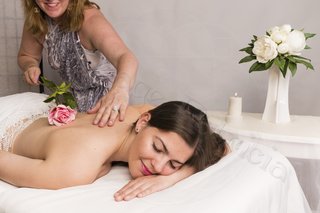 Choose the classical "Shakti" tantric massage for women and let yourself be carried away into a world of different perception. Tantra massage with its introductory ritual, gentle techniques, oil massage, and intimate yoni massage is truly a "classic" that never gets old and yet has always something new and surprising. You will experience the joy that is transmitted through our touch.
Tantra is not just a massage, it is an experience which invokes a spiritual dimension.
What can you look forward to?
Shakti massage for women is given by a masseur or masseuse (of your choice) which will give you their full attention, respect and awareness of your fragile boundaries. We understand the depth, vulnerability, and sensitivity of women. This ability to be on your wavelength and sense your needs enables you to relax completely within in a safe environment.
Women who experience pleasure in the anal area can book a supplementary external and internal anal massage in addition to the selected massage.
What will the massage bring?
Tantric massage is one of the older, proven, and effective healing remedies. It has a beneficial effect not only on the uterus and genitals, but on the entire female organism. The sensual touches on the body are vitalizing and healing.
Let the energy flow through your organs and jump-start the endocrine glands to improve hormone production, improve your moods, menstrual issues, and relieve tension.
This massage can enhance your health and sensual awareness.
Tantra massage greatly improves a woman's psyche and also can give you a new perspective on many problems in relationships, family, and partnerships.
Recommendations
Do you like to change positions during a massage? Then choose Kashmir massage.
If you have experienced any trauma in your life, are afraid of touches on your body or genitals, or have other abdominal, sexual, or menstrual issues, then check out a healing tantric massage package that includes vaginal mapping.