Veronica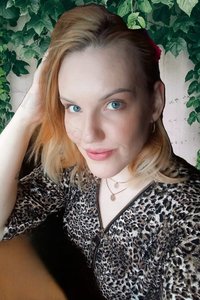 "We are each original."
Veronica is our junior masseuse and comes with a gentle touch and a smile on her face. She can create a relaxed atmosphere and take you out of reality with her slowly flowing massage.
Tantric massage 60-120 minutes
Massage for women
Sensual and Angel Massage
Couples massage
Tantric bath
Patricia about Veronica
Veronica, as a junior massage therapist, is a youthful, cheerful, and positive creation, one full of feminine energy with a soft, almost motherly touch to her hands. Veronica will be happy to show you her gentle art and help you gradually relax your whole body.
Specializations
Tantric massage 60-120 minutes
Sensual and Angel Massage
Couples massage
Tantric bath
Veronica says about herself
I have been fascinated with tantra for over 10 years. For me, tantra massage is a healing technique that celebrates the masculine and feminine in our bodies.
It releases tension in places that are not reached within a regular massage. With a tantric massage, all the chakras in the body are unblocked and harmonized. Personally, I thoroughly enjoy the feeling of bliss from an uninterrupted experience with the client.
It's impossible to precisely describe the feelings from a tantra massage. This really has to be experienced within your own skin. We are each original. But usually the receiver feels coldness, a tingling in the upper or lower limbs, heat, and excitement.
Tantric massage is an energetic massage where the receiver can experience a full-body orgasm that they have never experienced before in their normal sex life. After the massage, the client should feel energized, happy, more productive at work and in their sex life.
I look forward to meeting you.
Certificates
2022; Tantralife School of Tantric Massage
2019; Refit Sports Massage Recertification Course
Spoken languages
Czech
English